What do you do at Lhyfe?
I lead the commercial strategy for local authorities and the public sector in France. That means, I make sure that we are working with all levels of public stakeholders, from associations of
municipalities to regions and local authority energy companies. My role is to offer them our solution, but above all we support them in establishing their regional strategy. I also have the role of coordinator on the first hydrogen ecosystem projects, such as the Great West Hydrogen Valley (VHyGO). This involves coordinating the twenty partners working on this large-scale project and interfacing with our sponsors: the French Energy and Environment agency and the regions in particular.
Three things you really like at Lhyfe
Feeling like you are changing the world every morning when you go to the office
Our completely transparent company management
My colleagues
The ONE main reason you chose to join Lhyfe:
To be involved in building this fantastic project from its beginning (I arrived in the company in 2019)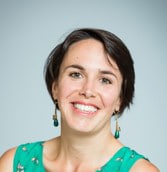 Your favorite Lhyfe quote?
How hy make Lhyfe ?? Our hydrogen gives off oxygen. And oxygen means life.