>

Lhyfe Heroes launches the first Hydrogen Ecosystems Management Portal to accelerate hydrogen mobility development in local areas
Nantes (France), 17 April 2023 – 7:30 am – Lhyfe Heroes, the first digital platform developed to start decarbonising industries with green and renewable hydrogen, is today presenting – at the Hydrogen Fuel Cell Europe fair (Hanover, Germany) – the first portal for managing hydrogen mobility ecosystems. This portal, which is geared towards regions, local authorities, economic development agencies and so on, and their end users, is designed as a tool for managing and accelerating multiple hydrogen uses in a given area.
With the new portal, Lhyfe Heroes is pursuing its sole purpose – that of accelerating hydrogen projects.
Meet Lhyfe Heroes from 17 to 21 April 2023 at the Hydrogen Fuel Cell Europe fair  (Hannover Messe, Germany) Hall 13, Booth C60/1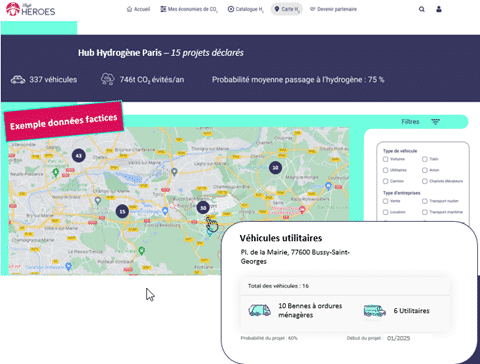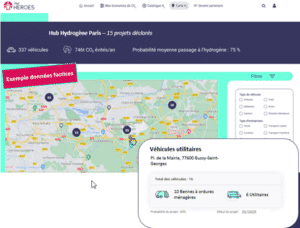 The challenges specific to hydrogen ecosystems
Developing hydrogen in an area involves several challenges:
Answering the "egg or chicken?" question,or in other words deciding with what to start: Hydrogen production? Development of uses? Distribution?
Correctly locating production and distribution infrastructure to meet user requirements
Developing and accelerating uses in the area through education.
The complexity of these challenges combined with the need to build an entire fuel chain can slow the progress of some projects.
Learning from experience: Synchronisation, the key to quick ecosystem deployment 
To develop the Lhyfe Heroes platform, the team built on the experience of Lhyfe, one of the pioneers of green and renewable hydrogen. The company has already been involved in deploying four ecosystems in France and Germany, and is working on 9.8 GW of projects throughout Europe.
To deploy its first production plant, in Pays de la Loire in 2021 (the first in the world powered by wind), Lhyfe created a regional ecosystem composed of public and private users, distributors (fuel stations), manufacturers and so on, which coordinated their needs and offerings and synchronised their actions. The result was a fuel chain deployed in just two years and launched in 2021, around a semi-centralised production plant.
Today, more and more ecosystems are emerging in Europe, with an ever-increasing number of players involved. An online solution can help to accelerate and ease this long-term job.
A portal to centralise information and accelerate ecosystem development
Knowing the importance of the ecosystem coordinator role – and its complex nature – for the rapid deployment of these local-network-based ecosystems, Lhyfe Heroes has developed a new feature within its digital platform launched last November: a Hydrogen Ecosystems Management Portal.
The data collected on hydrogen solutions, services and needs, following following several months of surveys by email, phone, and in-person, was until now stored in a database and updated very little. The process of collecting, updating and sharing data is now more efficient thanks to this online tool.
The Hydrogen Ecosystems Management Portal will help those initiating and in charge of developing hydrogen mobility ecosystems to:
Identify and quantify local uses on a map to visualise needs better;
Communicate regularly on project progress, to facilitate the synchronisation of adjacent projects (hydrogen uses and production and distribution infrastructure);
Stimulate the end-user community (fleet managers, stations, etc.) through meetings with experts, potential partners, meetings between local players, etc. to support them in their projects, maintain momentum and – ultimately – develop uses more quickly.
This portal is a crucial decision-making tool for effectively allocating funding for uses and infrastructure, and for choosing the right partners from the start of a project, so that no component of the ecosystem blocks its overall development.
Several players have already begin using the portal, such as the town of Schwäbisch Gmünd in Germany, the regional economic development agency for the Occitanie/Pyrénées-Méditerranée Region (AD'OCC)  in France and an airport area.
Hydrogen ecosystems can contact Lhyfe Heroes as of now to start setting up their portal account.
Alexander Groll, Head of the Economic Development Agency in the City of Schwäbisch Gmünd: "The decarbonisation process is proving to be a major challenge for a medium-sized city like ours. In Schwäbisch Gmünd we face this challenge in particular with our sustainable technology park ASPEN and with the many different skills and expertise our local companies have in decarbonisation and hydrogen technologies. We welcomed the opportunity to test the Lhyfe Heroes Ecosystems portal with enthusiasm in order to work together more effectively between the many people and groups involved. It is also a communication tool for us to regularly show all the businesses and organisations in the city the dynamic approach of our community to this forward-looking issue."
Benjamin Fevre, Hydrogen Innovation & Industry coordinator, Regional Economic Development agency for the Region of Occitanie/Pyrénées-Méditerranée: "To develop a hydrogen mobility project like the Occitanie H2 Corridor, we must coordinate and share information between suppliers of hydrogen technologies, hydrogen producers and distributors, carriers and shippers, and local areas. We also coordinate with public funding entities. It is both intense and essential work, and for which equipping ourselves with a digital tool can only help us. It is for this purpose that the Heroes platform will be tested around the Lhyfe Occitanie renewable hydrogen production plant in Bessières." 
Claire Le Dren, in charge of developing Lhyfe Heroes: "Since the launch of Lhyfe Heroes, we have been attentive to users and constantly working with the sales teams of our partners, which feed our reflection on the obstacles encountered by the players in the field. We are at the start of a transition that is absolutely essential to the fight against climate change. We must accompany and connect all players, bringing knowledge to each carrier, shipper and fleet manager who has questions about renewable hydrogen. In this context, managers of hydrogen ecosystems have the same goal as hydrogen technology providers: accelerating energy transition through hydrogen. However, they are not yet equipped to manage the ramped-up level of demand and projects. We are delighted to bring them a solution that will simplify their everyday work." 
For an interview with the spokespersons above, please contact the press department : Click to access the Lhyfe Media Kit (press kit and visuals)
About Lhyfe Heroes
Launched in November 2022 by the green and renewable hydrogen producer and supplier Lhyfe, Lhyfe Hereos is the first digital platform developed to help pioneers in deploying their hydrogen projects. It is aimed at project initiators wishing to turn to hydrogen or who are already in the process of making the switch and are looking to equip themselves. The platform already includes a CO2 savings simulator, more than a hundred solutions capable of providing the building blocks for projects, and comprehensive information on hydrogen mobility as well as stationary uses of the gas.
More information at www.lhyfe-heroes.com.
About Lhyfe
Lhyfe is a European group devoted to energy transition, and a producer and supplier of green and renewable hydrogen. Its production sites and portfolio of projects intend to provide access to green and renewable hydrogen in industrial quantities, and enable the creation of a virtuous energy model capable of decarbonising entire sectors of industry and transport.
In 2021, Lhyfe inaugurated the first industrial-scale green hydrogen production plant in the world to be interconnected with a wind farm. In 2022, Lhyfe inaugurated the first offshore green hydrogen production pilot platform in the world.
Lhyfe is represented in 11 European countries and had 149 staff at the end of 2022. The company is listed on the Euronext market in Paris (ISIN: FR0014009YQ1 – LHYFE). Lhyfe.com
Contacts:
LHYFE:
Industry Press Relations
Nouvelles Graines
Clémence Rebours:
+33 (0) 6 60 57 76 43
[email protected]
Financial Press Relations
ACTUS
Manon Clairet
+33 (0) 1 53 67 36 73
[email protected]