>

Pays de la Loire project H2Ouest selected by French Environment and Energy Agency in its H2 Mobility call for projects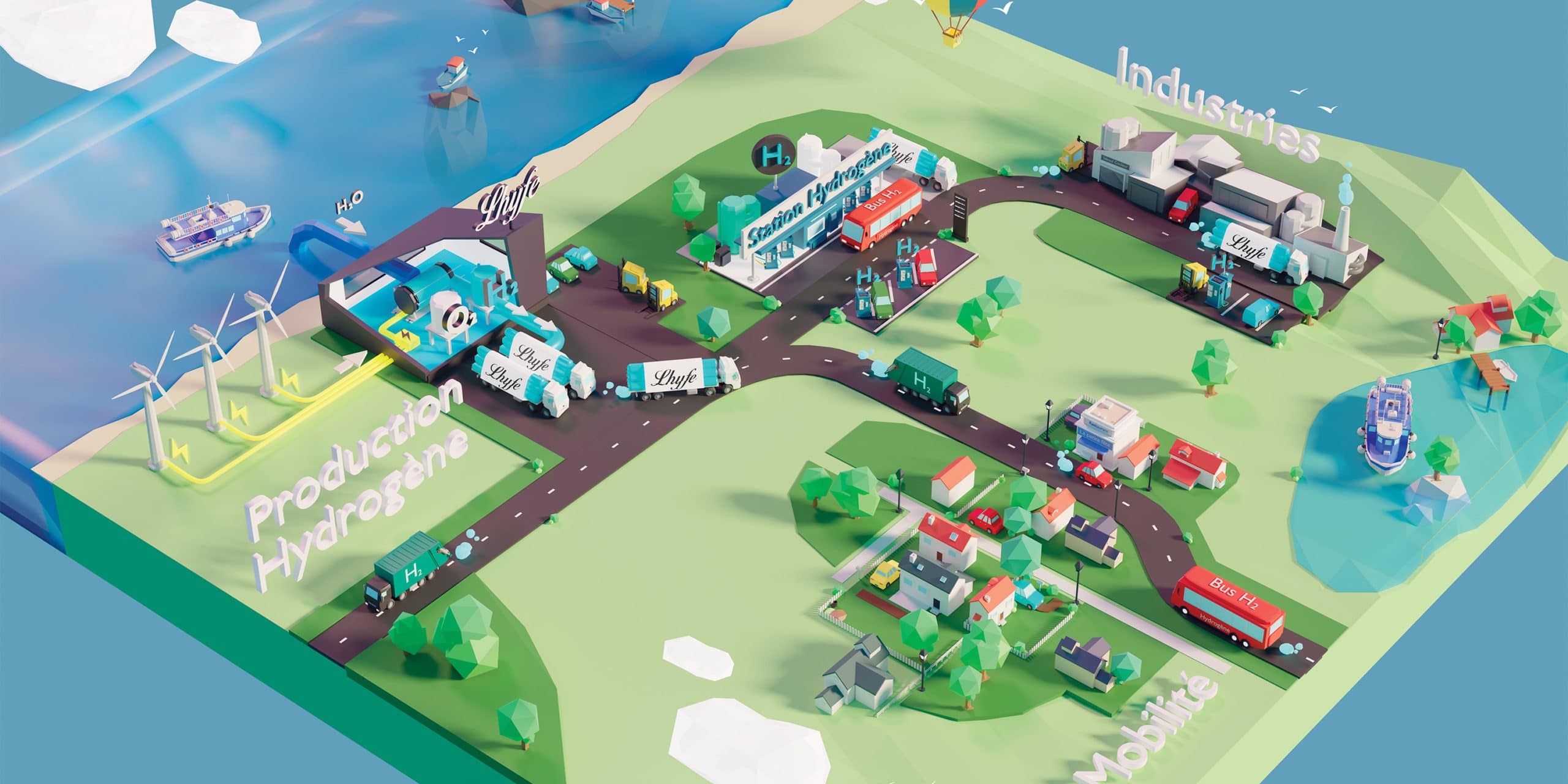 H2Ouest, led by Lhyfe, SyDEV, Vendée Energie, Vendée Hydrogène, Le Mans Métropole and ACO, aims to deploy a completely green hydrogen fuel chain in Pays de la Loire from 2021.
Lhyfe is proud to announce that the joint H2Ouest project – proposed in conjunction with five partners in Pays de la Loire – is one of ten French projects selected by the French Environment and Energy Management agency (ADEME) in January 2020, in its second call for hydrogen mobility and hydrogen mobility ecosystem projects.
Six complementary operators create an ecosystem to deploy completely green hydrogen in the Pays de la Loire region from 2021
H2Ouest is the result of a partnership between six operators from Pays de la Loire, which together cover the entire green hydrogen value chain (production, delivery and local uses) and all types of area:
Vendée Hydrogène, an entity of Vendée Energie, set up by SyDEV (Vendée energy network operator), and coordinator of the project for ADEME: SyDEV is an energy operator that deeply wants to make Vendée's transportation carbon-free. It will have the first industrial production site for green hydrogen in France (designed by Lhyfe) in 2021 and, in parallel, Vendée Hydrogène will build Vendée's first H2 fuel station in La Roche-sur-Yon.
Lhyfe: independently owned producer of completely green hydrogen and the only industrial-scale operator in Europe, Lhyfe employs a process involving the electrolysis of water using renewable energy. The company will deliver its first kilograms of hydrogen within the region from the first half of 2021, from its first industrial site, based in Vendée.
Le Mans Métropole: city with large-scale urban uses which has already begun investing in hydrogen infrastructure and will have its first H2 refuelling station in 2020.
ACO (Automobile Club de l'Ouest): automobile club, and organizer of legendary, international sporting events such as the 24 Hours of Le Mans, which is committed to promoting hydrogen in car racing and in more conventional transportation. In addition to the desire to introduce hydrogen in racing, it has launched the construction of a H2 refuelling station near the race track, to supply power to city buses, mass-produced cars and vehicle fleets. Inauguration is planned in 2020.
Existence in France of a viable and replicable model for a sustainable hydrogen ecosystem is now confirmed
H2Ouest aims to massively deploy green hydrogen use in Pays de la Loire, and create an ecosystem for hydrogen-powered mobility.
This ecosystem convinced ADEME's jury based on its three fundamental principles:
Green and sustainable hydrogen: H2Ouest has chosen to produce completely green hydrogen from renewable energy sources, using the electrolysis of water.
An economically viable project: H2Ouest has chosen a pooled and local production system which will ultimately be contained within a 150 km to 200 km radius of the points of delivery. By making green hydrogen accessible as widely as possible through a cost-effective model, this fuel has every chance of developing massively on the market and providing a real alternative for mobility.
An innovative and replicable project: H2Ouest has several features that have never been seen before in France:
An integrative and disruptive model to make areas the producers of their own green fuel with a system of short distribution channels designed to be replicated (widespread uses, medium-sized towns and large cities),
A direct connection with the wind turbines of Bouin, in Vendée – no other industrial-sized electrolyser is currently directly connected to a renewable and intermittent energy source,
Optimized hydrogen distribution in a region with widespread and varied uses, via a solution which can meet all kinds of needs,
The first "retrofitted" 44-tonne hydrogen truck in France, where the internal combustion engine will be replaced by an electric engine powered by a fuel cell.
The development of an entirely intraregional value chain, including electricity production, electrolysis, transportation, distribution and vehicle modification.
ADEME's decision to support this project confirms that all of the components for the deployment of green hydrogen in France are now in place. H2Ouest is one of 20 candidates chosen to share the 90 million euros of funding provided by ADEME.
We are proud to have succeeded together in convincing ADEME that the ecosystem around green hydrogen exists and is now viable. This is a strong message for all the local authorities, businesses and private individuals, who can now seriously consider switching to green hydrogen. We will be happy to provide any interested parties, who are located less than 200 kilometres from Bouin, with the completely green hydrogen that we will be producing from 2021.

Alain Leboeuf, President SyDEV
We are delighted that this regional multi-partnered project has been recognized by ADEME. The development of a fleet of buses and refuse collectors as well as a hydrogen production facility in our region is essential for the establishment of a sustainable H2 ecosystem.

Le Mans Métropole
H2Ouest is a project which is in line with our values, and with our DNA. ACO, in both its capacity as club and race organiser, has always strived for progress in the field of mobility. We must today offer carbon-free mobility to succeed the energy transition. Demonstrating the utility of hydrogen on the racetrack before 250,000 spectators or millions of TV viewers, as well as participating in the creation of the H2 filling station that will be used to refuel buses followed by fleet vehicles and later privately owned cars, are some of our key missions. We must play an active role in awareness raising and decision making. What exciting prospects!

Pierre Fillon, President, ACO
The ecosystem that we have created in Pays de la Loire is the proof that it is now completely possible to deploy fully green hydrogen on an industrial scale, in France. This ecosystem, which is replicable in any area, has the advantage of using a short distribution channel and offering real economic benefits to local stakeholders. It is high time for a new energy paradigm; we are ready to initiate this change with all those who want to go for it!

Matthieu Guesné, founder and CEO, Lhyfe