>

Vhygo: Creation of a User-Focused Hydrogen Ecosystem
VHyGO
Local authoritiesBrittany – Normandy – Pays de Loire, France2023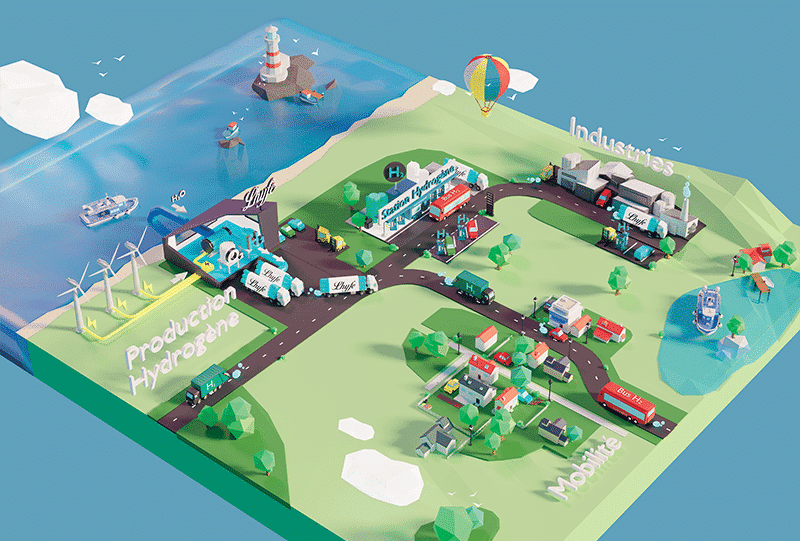 Project background
The Great West Hydrogen Valley project (VHyGO), spanning the three regions of Brittany, Normandy and Pays de Loire, (https://vhygo.com/), consists in bringing together stakeholders and initiatives to develop renewable hydrogen ecosystems, with a focus on:
Developing local production sites producing renewable hydrogen in industrial quantities and able to serve the entire West of France
Covering the area with a network of hydrogen filling stations to make this renewable hydrogen available to all
Achieving mass usage through the acquisition of a large number of vehicles, and the use of purchasing groups allowing a significant reduction in prices
Synchronising the development of usage, distribution and production.
The goal is to develop a network of 20 filling stations across 15 towns in the West of France by 2024.
About the project
The VHyGO project was founded on the basis of uniting private and public stakeholders – including Lhyfe – who are committed to fostering regional projects with a positive impact. Lhyfe, which is the project's coordinator, provides the "production" brick of the ecosystem and is focused on developing local hydrogen production sites that will supply the area's future filling stations.
The entire hydrogen value chain is today represented within VHyGO:
Future public and private users
Constructors and operators of hydrogen filling stations
Constructors of hydrogen vehicles and retrofit providers
Design firms
Institutions, competitiveness clusters and business clusters.
The VHyGO project aims to democratize access to renewable hydrogen in western France by accompanying areas and businesses of all sizes in their transition to green mobility. The consortium today brings together over 20 partners driven by one belief: renewable hydrogen has its place in the energy mix of tomorrow and it is through a pragmatic approach, involving the areas concerned as closely as possible, that this sector will be able to develop rapidly

Maud Augeai, Lhyfe Project Coordinator for VHyGO
27 million
tonnes less CO2 a year by 2030
100 kilometres
all SMEs and communities in the West of France will be less than 100 kilometres from a renewable hydrogen production site by 2030
20 partners
more than 20 partners involved across the entire hydrogen value chain
What made the difference ?
It reaches a critical size allowing the massification of production and uses
It makes clean, local fuel available to everyone (small and large communities, and small and large businesses)
It focuses on adapting to the challenges, constraints and schedules of each area and company.