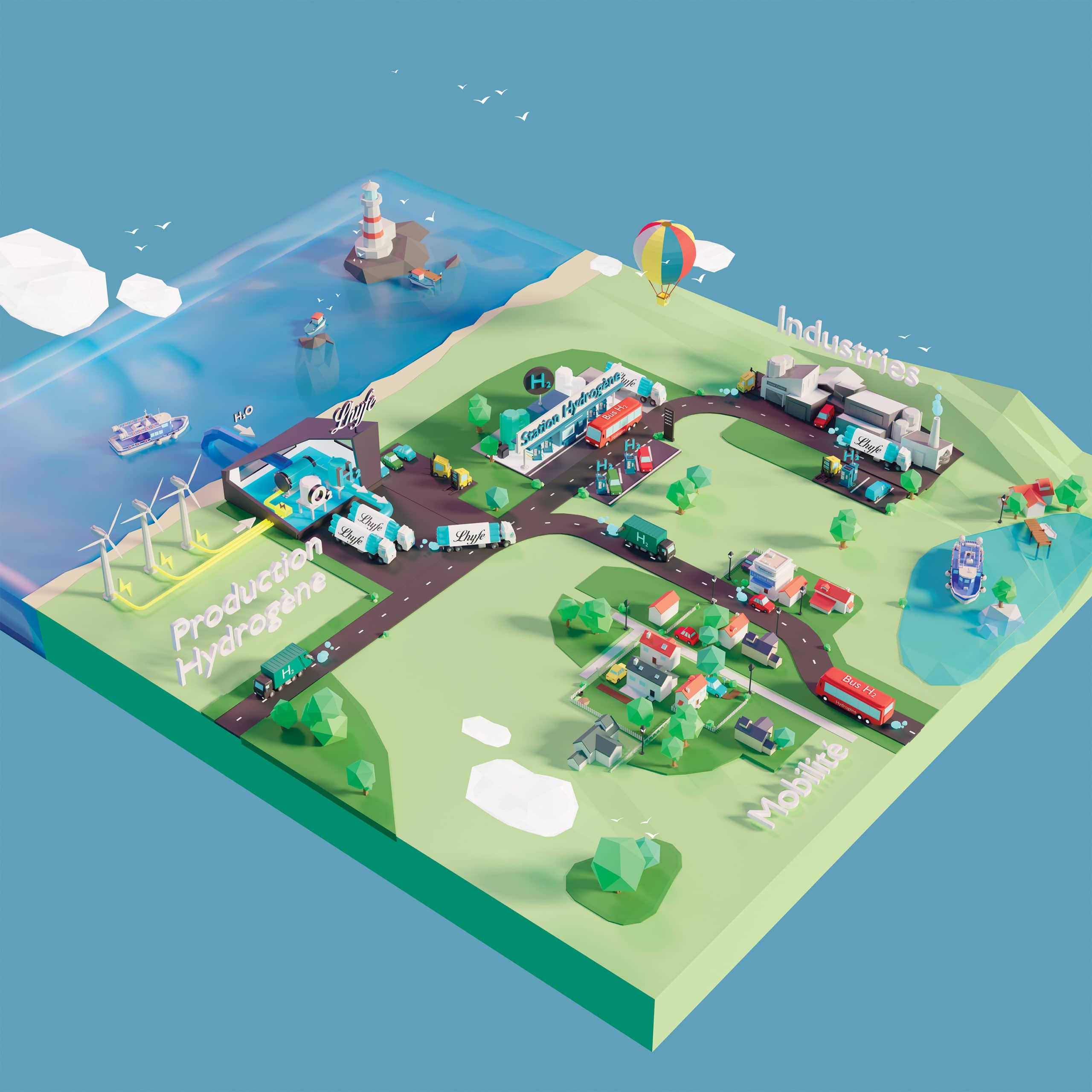 The last IPCC report was released in August 2021. It adds to the long list of warnings from climate scientists. It is alarming and shows the urgency of an energy transition to change the paradigm.
This report makes a statement from which we can no longer look away: the current human economic and energy model is not sustainable. We absolutely have to find alternative solutions to address that. We need to start an energy transition. Now.
Lhyfe hydrogen, an energy transition that is everyone's business
We are not blaming the old system. Indeed, each era has experienced its own economic and social constraints and its own technological limits. On the other hand, there are solutions today to decarbonize our activities. And this requires courage, commitment, and sometimes binding choices. We are fighting to make the choice of renewable hydrogen an obvious choice for our customers. The solution must be the least restrictive possible.
So that industrial manufacturers can stop emitting tons of CO2 while keeping their activity and their employees. This will be possible by replacing carbon hydrogen with renewable hydrogen.
Similarly, a community can run its buses in the city without emitting CO2. This can be done by replacing natural gas with renewable hydrogen.
A local solution and work hand in hand with local partners
In the energy model that we advocate, energy is produced and consumed locally. This allows us to ensure that its production is truly renewable. This is an opposite approach to buying "green" electricity (via origin guarantees) which is actually imported from other countries.
We also make sure that transportation is kept to a minimum. To do this, we move our gas to a consumption site near our plant. Finally, we work hand in hand with local economic and political actors. This helps to develop employment and local know-how around this technology of the future.
European regulations are moving in our direction and funding exists to facilitate this transition. But in the end, it is the responsibility and commitment of the men and women in charge of the transformation of polluting activities towards decarbonized activities that will make the difference. At Lhyfe, it is our duty to support them in this energy transition to renewable hydrogen.
We don't want a "No future". Our battle for the future is "on"
By proposing a clean energy solution, we are providing a sustainable solution for all sectors that must continue to exist:
public transportation
waste collection
heavy industries that provide us with essential materials for construction
…
There is no fatality for all these actors who pollute a lot today. But a commitment is needed to choose and implement options to limit their carbon footprint.
The energy transition… towards an ecological hydrogen
In our approach, we are also committed. We're not just producing clean hydrogen. We are making an effort to connect directly to renewable energy sources. This is a method that the governments do not yet recognize. We call it ecological hydrogen.
But we go even further: when we produce our hydrogen, we generate oxygen. We decided to restore this oxygen to the environment. Indeed, many environments impoverished by greenhouse gases and global warming need it. We have already begun to test how to use this oxygen to enrich the oceans. That is what we want to put in place in the future when our plants are established at sea.
Do you want to make your hydrogen project a reality?
Contact our hydrogen expert