>

Lidl opens the first hydrogen logistics platform
Lidl
Transport and logisticsCarquefou, France2021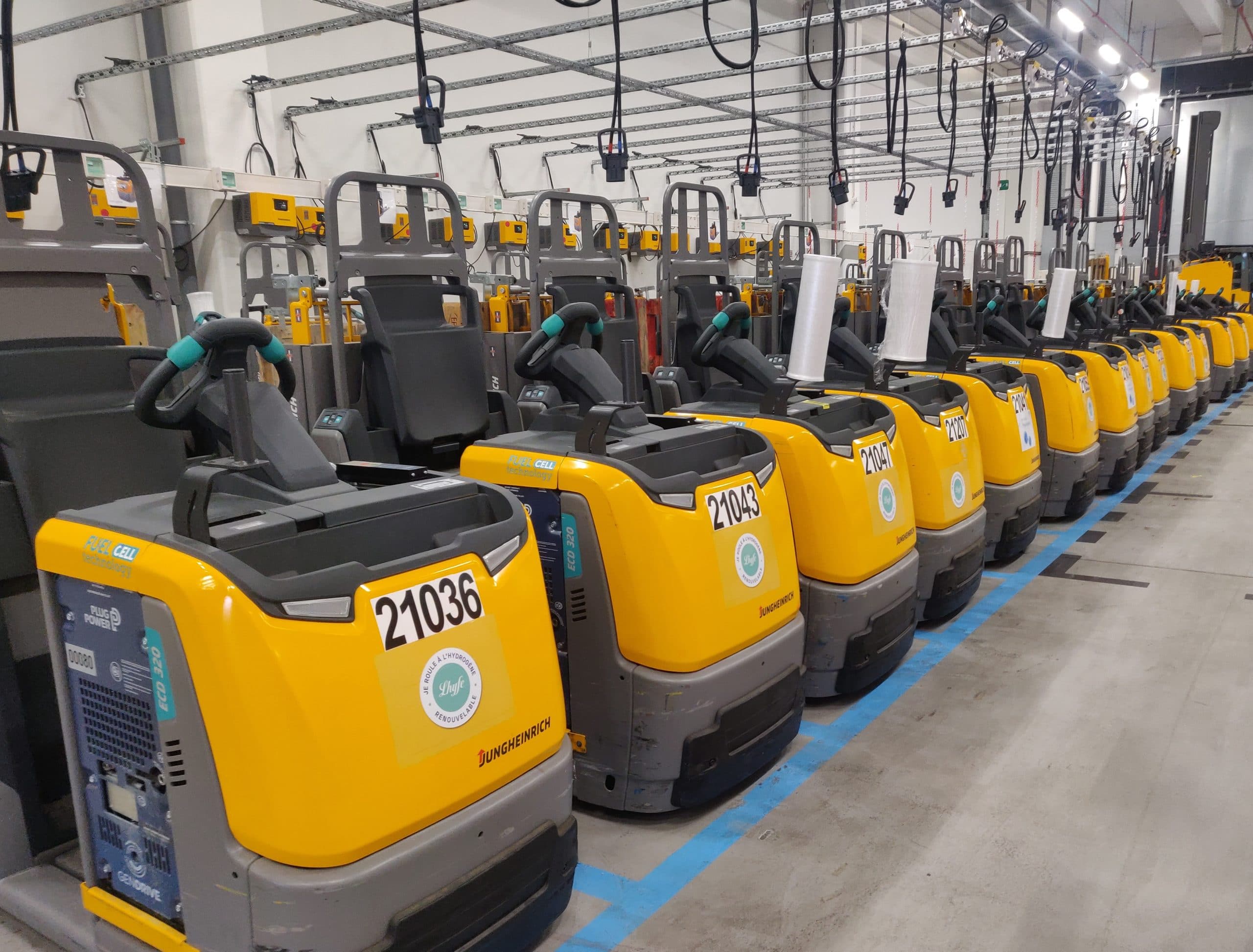 Lidl is proud to open the first green hydrogen logistics platform in Europe in Carquefou. With 98 operational handling machines, Lidl believes in green hydrogen to optimize its logistics and reduce its CO2 emissions.
The background
Our customer Lidl is growing in France and Europe. This company is facing growing logistical and environmental challenges. It is particularly committed to a responsible approach to ensure the sustainability of its activities. One of the levers under study to innovate on both logistics and the environment? Renewable hydrogen!
The logistics platform of Carquefou (France, 44) has chosen to use hydrogen for its handling equipment, motivated by a very simple advantage: the charging time. It is only 2 to 3 minutes for a hydrogen engine, whereas it took several hours to recharge an electric battery, and therefore a dedicated charging area on the platform was needed.
The resulting benefits are numerous: saving space at the depot, because these trolleys are not stored during the many hours of loading, less immobilization of the trolleys that can almost operate continuously, and, ultimately, an optimized fleet size. But above all, by choosing renewable hydrogen, Lidl manages to completely decarbonize this activity!
The logistics platform project
Since the end of 2021, Lhyfe has been delivering 75 kg of renewable and environmentally friendly hydrogen per day to the Lidl of Carquefou (Loire Atlantique) logistics platform. The material handling equipment is refueled thanks to 3 pumps installed inside the warehouse. The hydrogen compressor and storage station are positioned in a specific area outside the platform.
To help Lidl with this project, Lhyfe has worked with Plug Power. It is a valuable partner, with whom Lhyfe has been able to build the strategy to be implemented, propose the right sizing of the fleet, the number of stations to be planned, and define the level of hydrogen consumption.
Since January 2022, 98 handling machines (80% of the logistics fleet) have been running on renewable hydrogen.
And this is just the beginning…
A pioneer in this field, Lidl is already studying the possibility of developing green hydrogen as a solution to optimize its logistics. This will reduce greenhouse gas emissions. In the medium term, Lidl plans to deploy green hydrogen vehicles on other logistics platforms. Or use it to fuel part of its fleet of delivery trucks.
Lidl is proud to open in Carquefou the first green hydrogen logistics platform in Europe thanks to its partners Plug Power, which adapted the handling machines, and Lhyfe, whose green hydrogen production plant is located 75km from our site. With 98 operational handling machines and a delivery truck to come in 2022, Lidl believes in the future of green hydrogen to optimize its logistics and reduce its CO2 emissions in line with its commitments.

Gregory Podda, Logistics Manager, Lidl France
2 to 3 minutes
of charging for 1 vehicle, with a minimum autonomy of one working day (8 or 9h) vs. several hours of charging for an electric battery
98 forklift trucks
at the time of the inauguration in March 2022, i.e. 80% of the fleet
75kg
of renouvelable hydrogen delivered per day
What made the difference ?
The proximity of our factory for the delivery of hydrogen: 75km between the Lidl platform and the Lhyfe factory
Our collaboration with Plug Power facilitated the implementation of this innovation for Lidl
Discover our customer stories
Do you want to make your hydrogen project a reality?
Contact our hydrogen expert